Mun plesö (My Pleasure)
extracts from Tom of Finland's art


Recycling? Reuse? Climate change? Topical themes.
Images of the exhibition are recycled details of Tom of Finland's drawings.
Reused titles are borrowed from hymn-book. Large charcoal drawings are a carbon sink?

The pictures sprung up as I wanted to practise drawing.
I picked out faces in Tom of Finland's (1920 - 1991) drawings of joy and pleasure.
The collection became a tribute to sexuality and to the most important gay erotic artist of last century.

In past, gays were thought to be deformities between men and women in scale of sexuality.
Few gay felt himself familiar being settled at that position.
In Tom of Finland's art gay men and their sexuality is even more masculine than the hetero men's one ever.
Bodies with exaggerated muscles and outfits, shameless attitude and also roles emphasize hyper-masculinity.
They find physical part of sexuality both in front and rear.
Understanding of shared similarities and targets is in serve the purpose.
With his art Tom of Finland liberated masculinity for homosexuals.

Those images I used as models where better, but mine are bigger. Bigger is more.
Each measures 71 x 104 cm. Faces, in prints I picked them up, were 1,5 - 5 cm.

Descriptive titles I found in hymn-book.
Sexual and religious experiences can be described with similar expressions.


Some of the exhibits:



630 Oi, joukko valkopukuinen (Oh, the troop in white) (2011)



453 Kivi onko kourassani (Is there a stone in my hand) (2011)



51 Kaikki ilon lähteet puhkeavat (All the fountains of joy are bursting) (2011)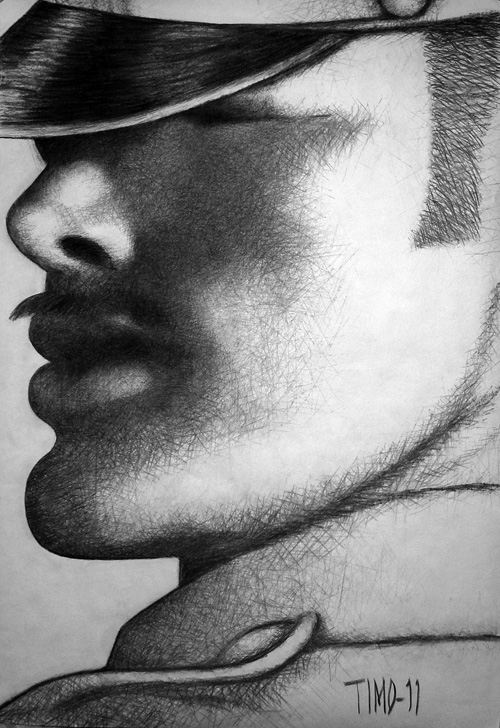 309 Nyt vielä etehesi (Now over again at front of you) (2011)



468 Syliisi hellään sulje (Clasp me in your tender arms) (2011)



490 Mä silmät luon ylös taivaaseen (I zoom my eyes up to the heaven) (2011)



also rest of the exhibits have names of hymns:


86 Maailman ääriin kaikukoon (Let it echo to every brim of the world)

183 On meillä aarre verraton (We have got a treasure incomparable)

217 Täynnä kiitosta ja hämmästystä (Filled with praise and astonishment)

299 Ei mikään niin voi virvoittaa (Nothing can revive the same way)

571 Jo joutui armas aika (Hastily came the beloved time)

608 Kun saapunut on hetkeni (When my moment has broken)



BIBLIOGRAPHY:


TOM OF FINLAND
retrospective
Tom of Finland Foundation
North Hollywood, 1988

MORE BLACKS IN TOM'S DRAWINGS
Tom of Finland Company
Los Angeles

TOM OF FINLAND
THE ART OF PLEASURE
Taschen
Köln, 1998

hymn-book



---