FeuterShow

We visiting artists, Suelin Low Chew Tung, Prensnelo and I
with Open Spaces' permanent artists organized an exhibition.

I buyed old, worthless paintings in flea markets.
I recycled and reused those works of art.
The association of visual artists in Switzerland vis arte says in the website:
"The author or copyright owner has the exclusive right to determine whether, when and how the work may be changed." *
and "It is forbidden to destroy an original work without first proposing to the author to take it back." **

For my project I had to ignore these laws.
But I gave new life to works of art, which otherwise would be awkward garbage.

There were only bad clues to detect authors of the works, with unclear, if any signatures and unclear origin.
Only one of the works was clearly signed.
It was in worst condition and lost most of its paint during cleaning process.

The project is a reminder and comment on the importance of recycling.
It is also an act of art. As an artist, it is more reasonable and justified not to produce all the time new and more.
Recycling of superfluous works of art should be allowed for environmental reasons.
This kind of project suits well to Switzerland, which is said to be the leading country in recycling.

Reborn works were presented with photos, showing the original, process or explanation.




* "Der Urheber oder die Urheberin hat das ausschliessliche Recht zu bestimmen,
ob, wann und wie das Werk geandert werden darf."
** "Originalwerke durfen nicht zerstort werden,
ohne dem Urheber oderder Urheberin vorher die Rucknahme anzubieten."
(visarte.ch)



Works from wall on left: see through self portrait,
doppelgänger, rendezvous, restructuring, climate change, departure, rancher, Laigueglia differently, Joseph
On the table: swap, belated kuckoo

Few works of art separately.





Restructuring





Swap





Climate Change





Encounter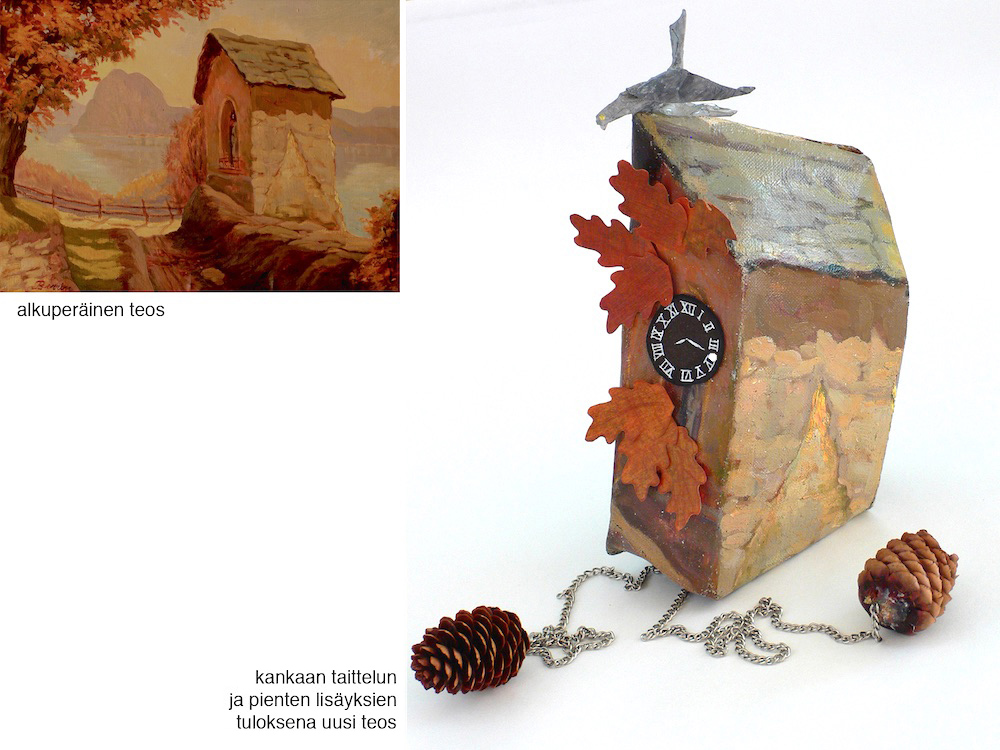 Belated Cuckoo





Joseph


Are you about to throw away work of art?
Don't do it. Give a second life for it.
It is easy. Even I could do it.





And still this huge charcoal drawing 70 x 280 cm.
I enlarged and streched a magnetic resonance image of my body.
I did this as a seeing and drawing exercice.



---